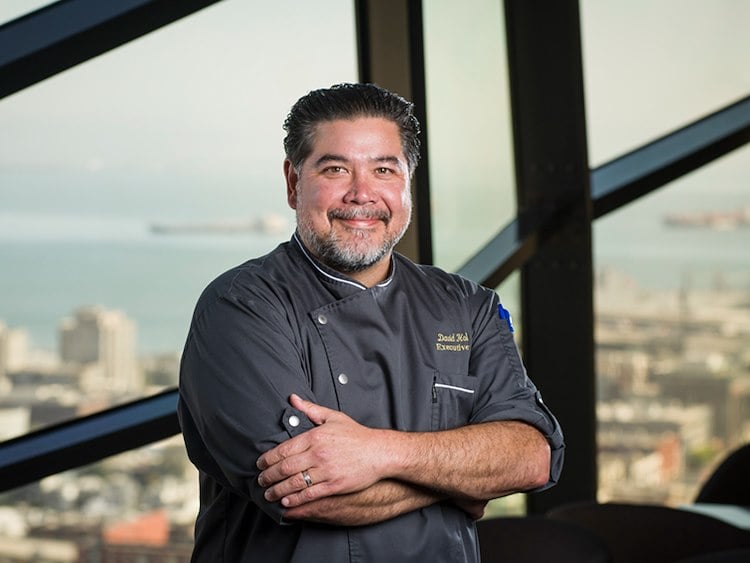 Executive Chef David Hollands
David Hollands brings the vibrant flavors of his multi-cultural heritage and his family's passion for hospitality to his role as Executive Chef for the San Francisco Marriott Marquis.
Born in Hawaii and raised in San Francisco by a Portuguese mother who grew up in Hong Kong, Hollands was introduced to a rich variety of international flavor profiles at an early age.
"My mother loved cooking. She combined her Portuguese and Asian styles to create aromatic dishes that drew me to the kitchen. Our family dinners were delicious adventures and I want to pass this sense of joy and bonding over memorable meals to our guests," Hollands explains.
"I became hooked on cooking and, thanks to my father's position with a hospitality company, I began working as a dishwasher at a hotel in my free time. I watched the team of chefs, line cooks and expeditors prepare bountiful banquets with speed, precision and a true sense of camaraderie. I found my calling in the kitchen," he concludes.
While still in high school, Hollands worked his way through all stations of the kitchen at Max's Seafood Grill (now closed) in Daly City, California.

Upon graduating from the California Culinary Academy, he officially began his career in the hotel industry. After two one-year tenures at both the Four Seasons Clift Hotel in San Francisco and the Claremont Hotel Club & Spa in Berkeley, California, Hollands joined the opening team for the San Francisco Marriott Marquis in 1989.
Hired as an expeditor, Hollands soon ascended the ranks to Sous Chef and Restaurant Chef. In 1994, he was named Executive Sous Chef for the 1,500-room hotel and excelled in that position until he left in 2000 to work as Executive Chef and Director of Food & Beverage at various Marriott International properties, including The Lodge at Sonoma Renaissance Resort & Spa.
A charter member of the hotel, Hollands rejoined the hotel as its Executive Chef in 2011. Hollands oversees The View Lounge (International tapas), B55 Craft House & Kitchen and The Mission Pantry as well as banquets. He accents his menus with the flavors of his heritage and youth to produce distinctive dining experiences.
Hollands serves on America's Culinary Council. When not in the kitchen, he can be found cycling, snowboarding, hiking, and spending time with his kids in San Francisco.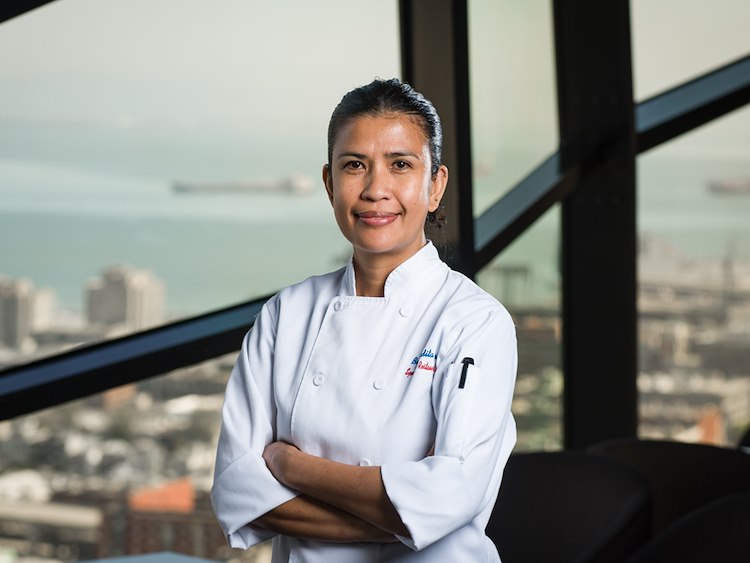 Executive Sous Chef Bernadita Gotis
Bernardita's serendipitous journey into culinary happened naturally, as food was a central part of her childhood. Born and raised in the southern province of the Philippine Islands, she grew up in a big family surrounded by nature's bounty of land and sea. An adventurous traveler straight out of the University of the Philippines, she graciously explored places through her camera lenses. It was foreign flavors and scents outside of the home that fueled her passion beyond visuals, where world food became more of the destination than the place itself.

Seeking new connections and challenges, Bernardita moved from the Philippines to the Bay Area by way of New York City. After earning an Associate's degree in Culinary Arts from City College of San Francisco, she did an internship at the W Hotel, rose through the ranks, and was the Executive Sous Chef before accepting the Specialty Restaurant Chef position at the San Francisco Marriott Marquis under the leadership of Executive Chef David Hollands. It is Northern California's diversity and abundance of seasonal products that keep Bernardita inspired to create delicious, thoughtful, and beautiful food.

While she's always planning on her next adventure, she's also constantly planning on the next dish with a stamp (mostly spices) from a previous travel experience and is eager to share the dining experience.
Banquet Sous Chef Parker Tse
Parker's culinary journey started at a young age when his family immigrated to America. While living under the same roof as his grandmother, he was able to sample authentic Chinese flavors. Parker's grandmother would not teach him how to cook, because she does not want her grandchildren to work in the culinary field. Disobeying his grandmother's wishes he decides to dive into the culinary world without regret.

Parker's first stop into the culinary adventure was in a high school home economics class. The class opens his eyes to many types of cuisine in the world. Upon graduating high school, Parker took a couple of courses on nutrition before enrolling in The Professional Culinary Institute. Soon after completing his culinary courses, he started working at many different kitchens. His job at Bon Appetite Google, then the one Michelin Star restaurant Chef Tj, a fine dining restaurant Parcel 104, and lastly the San Francisco Marriott Marquis.

While Parker is away from the kitchen, you will see him enjoy some hot pot with some friends and family, or staying warm at home watching movies with his wife.